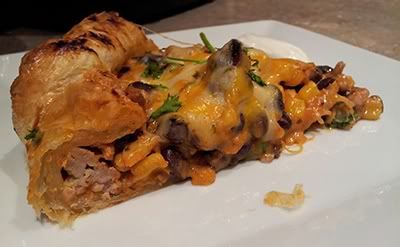 So I'll admit, there's some items in this that aren't Mexican hah but it's really the best description I have for it. I got the base idea from a kraft magazine and made my own variation. It's super easy to make and I joined it with a simple salad. Healthy and yummy, this pie is sure to please everyone.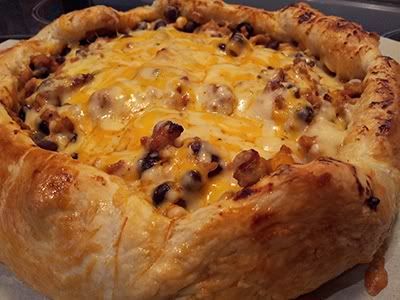 What you'll need:
1 lb. ground lean meat (beef, chicken, pork, turkey)
1/2 onion chopped (optional)
1 garlic clove chopped (optional)
Seasoning
1 cup corn (canned, frozen, fresh)
1 cup of black beans
1/2 cup cheez whiz
1/4 cup ketchup
3/4 box of frozen puff pastry (I used Tenderflake)
1 tbsp chopped fresh parsley
1/2 cup shredded taco cheese
Sour cream and Salsa (optional)
How to make it:
Pre heat oven to 375F. Brown meat with onions and garlic in a large non stick skillet. Use desired seasoning if you'd like (I used tex mex seasoning) Turn off the heat when meat is cooked through, stir in corn, black beans, cheez whiz and ketchup until the cheez whiz is melted and evenly coated. Set aside.
Place parchment paper on a baking sheet. Flour and roll out the puff pastry on a clean surface until its at least 12-13 inches all around. Place the pastry on the parchment paper.
Spoon meat mixture onto the center of the dough; spread it within 2 inches of the edge. Fold edge of dough over meat, leaving the center uncovered.
Bake in the oven for 20 min. When 20 min is up take the pizza out and sprinkle it with the shredded taco cheese. Turn the oven on to broil for about 5 min to melt cheese. But be sure to closely watch it so it doesn't burn.
Let it cool for a few min and top it off with the parsley. I cut mine into 6 equal parts, they were nicely sized portions. The sharper the knife the easier it will be to slice
I had salsa and sour cream on the side for people to eat with it. Totally optional
This is really easy to make, I also made some egg wash for the edges of the pastry folded on top of it. I use an egg yoke and a tbsp of water. Mix and spread.