Happy Monday everyone! Hope you all had a great weekend
Amaretti Cookies!
Oh man, almond flavoring is my favorite! I was just thinking about them and went ahead and made them. This was my first stab at trying this recipe; for mother's day I'm going to be making a new batch, probably with some more modifications.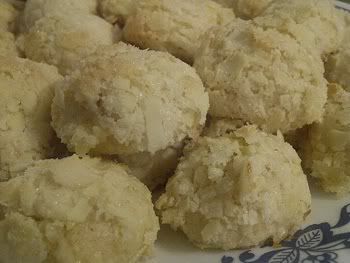 I wanted to try using flour…it doesn't call for it and they were supposed to be a lil more chewy but I wanted to see how it would turn out. They were still good! they weren't chewy but they were soft. This weekend I'll be making them again, this time exactly as it's printed. I have to mention this; the almonds need to be compressed as much as possible when measuring them out. Just push them/crush them into the measuring cup because if you don't you won't have enough. So without further ado, here's the recipe.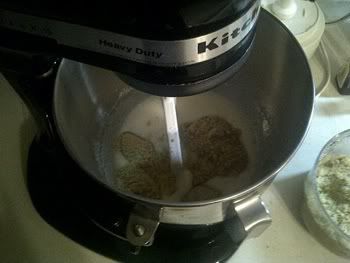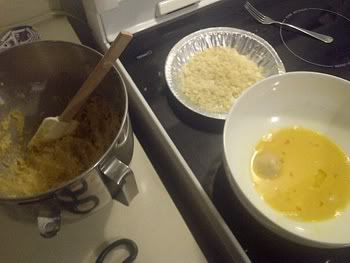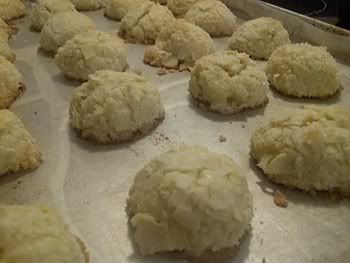 Cookies
2 cups sliced unblanched almonds
3/4 cup sugar, divided
1-1/2 teaspoons ground cinnamon
4 large egg yolks
1/2 teaspoon vanilla extract
1/2 teaspoon almond extract
Glaze
2 large eggs
3 tablespoons amaretto liqueur
1 cup sliced unblanched toasted almonds, broken into small pieces
1/2 cup sugar
• Position the racks in the upper and lower thirds of your oven.
• Heat the oven to 375°F.
• Dab lightly on baking sheets with butter and line with baking parchment or waxed paper.
• Lightly butter the parchment or paper.
• Put the almonds, 1/4 cup of the sugar, and the cinnamon in the work bowl of a food processor fitted with the steel blade.
• Process until the mixture begins to clump together.
• This should take from 45 to 60 seconds.
• This is an important step; when the almonds are very finely ground, the cookie will have a chewy texture.
• In the bowl of an electric mixer fitted with the paddle attachment, beat the egg yolks at medium speed.
• Increase to medium-high and beat until thickened and lightened in color, about 1-1/2 to 2 minutes.
• Add the remaining 1/2 cup sugar slowly, taking about 1 minute. Mix for another 30 seconds.
• Beat in the vanilla and almond extracts (add as little or as much as you like, I like it real almondy =P)
• Reduce the mixer speed to low and add the almond mixture in two parts.
• To make the glaze, place the eggs and the Amaretto in a low, flat dish (like a pie plate), and whisk to blend.
• In another low, flat dish, combine the crushed almonds and the sugar.
• Shape the dough into 1-inch balls.
• Roll each ball in the egg mixture, then in the almond-sugar mixture. Repeat the dipping procedure, and then place the dough balls on the prepared pans.
• Bake the cookies for about 10 minutes, or just until the bottoms are lightly browned.
• To ensure even browning, toward the end of the baking time, rotate the pans from top to bottom and from front to back.
• Do not over bake. (this is important! You're better off under baking slightly then over baking)
• Let sit in the pans for 4 minutes, and then remove to cooling racks.
• The cookies can be stored in an airtight container, layered between strips of waxed paper, for up to 3 weeks, or frozen.
Tips:
remember that the cooking will also depend on how thick or thin your pans are. The thinner the pan the less you should have them in. The thicker the pan you should have them in little longer. Also you don't have to use the glaze, it's completely optional. It makes the process a lot longer, especially because they're so small. If you'd like, do half and half and see how you prefer them